Frugal Homeschooling: Ways to Save Pennies
If you ask my husband right about now, he'd tell you I was most definitely the wrong person to be writing a post about homeschooling frugally. That may be because we've just come from the homeschool convention and purchasing curricula.
Despite his current feelings, I do try to be frugal about homeschooling. Most homeschoolers live on one salary, so we've learned how to save what we can.
I will admit that I don't always take the cheapest route when it comes to buying curricula. But sometimes I can make up for it by saving money elsewhere. So, here are some ways to save (especially if you've gone a little over budget with curricula!).
1. Look for the best time to buy school supplies.
I shop Target and Staples. Beginning the end of July to the first of August, Target has bins of school supplies VERY inexpensive. I can stock up on things like pencils, pens, glue, crayons, paper. Staples will advertise deals beginning a month or so before school starts. They usually have a really good weekly deal. I check each week to see if I need that week's deal, and I stock up. This can also be a good time to stock up on printer paper- something I use quite a bit of during the year.
2. Know what your homeschool membership gets you.
In South Carolina we homeschool through the "third option"- meaning we are part of a local accountability group. We register with them each year, and we get a membership card. With proof of homeschool, many companies offer a school or educators discount. I know that Barnes and Noble gives me a free educator's discount card. Staples offers an educator's rewards card.
Discovery Education
gives me a free subscription because of a code from my third option group. Ripley's Aquarium in Myrtle Beach (not too far from us) offers a great homeschool discount. Many museums will give homeschoolers the educators discount.
3. Find free sites for the "extras."
Homeschool Share
has great free unit studies and lapbooks when I need an extra literature study.
Donna Young's site
has MANY free printables from planners to Apologia lab sheets. Having a Kindle- or using the free Kindle app on your computer or ipod- gives you access to many free books. Many of the classics are free, as are many classic books for kids. There are some great free sites for extra practice in the basics.
Cool Math is a great math practice site.
I hope that you will find something free here that can be an asset to your homeschool. And, maybe, I'll make up for some of that curriculum money!
This post was originally part of the Schoolhouse Crew blog cruise. You can read how other homeschoolers
save money here.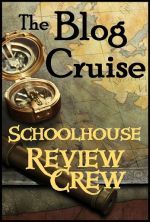 Read more about budgeting for homeschool from the Schoolhouse Review Crew.