{This post may contain affiliate links. }
Welcome to Read Aloud Wednesdays! If this is your first time joining us, you can
find out more about Read Aloud Wednesdays here
. We jumped into the discussion of reading aloud by talking about some of the great benefits of reading aloud in
last week's post.
But what if you only have older kids who read for themselves? Can you still enjoy reading aloud as a family? Do you still need to read aloud? This week we're going to look at some of the great things about reading aloud with older kids. And don't forget to link up below sharing any post you have about reading aloud or your favorite read aloud books.
I've been reading aloud, actually, from before my children's birth. As an avid reader myself, I was determined to introduce good books to my kids. Time passed, and we moved from picture books to chapter books. My older kids are very close in age and my younger kids are very close in age, but there is a three year gap between the sets. So I've read the same books and series twice as I've tried to include them for both sets of kids. My kids are all getting older now. I have two teens, and my younger girls are 9 and 10. So, often when I talk to other moms about reading aloud, they will assume that I'm talking about when we used to read aloud. But many of them seem really surprised to know that I regularly read aloud to all of my kids- even my teens.
There seems to be the idea that when kids can read for themselves, then they need to be responsible for all of their reading. And many parents think that reading aloud to older kids can cause them not to read well independently. And so, as kids get older, reading aloud will taper off until there is a point at which the kids are not a part of reading aloud any longer. But the truth is that there are some great reasons to hold on to your read aloud times. Older kids can benefit from reading aloud for some of the same reasons that the younger ones did and for other reasons.
Reading aloud can steer older kids to better books
. I'm not going to lie. My kids are allowed to read "popular" books. Some of them are twaddle. I'll just admit it. Sometimes they just want to read what everyone else is reading. And, often, I'll let them. (I could tell you all the reasons, but that's probably another post- or more!) But I still want them to be exposed to good books that they probably won't pick up for themselves.
Here's an example. A couple of years ago, I picked up a book called
The Wheel on the School
. It's an award winning classic by Meindert DeJong and illustrated by Maurice Sendak. It's a classic award winning book about a school in a little Dutch village. The children wonder why no more storks come to the roof of the school. Their seeking for the answer to bring back the storks is the main story line in the book; although all that happens surrounding their exploration of this problem really provides the theme of the story.
Well, the book didn't seem all that appealing to my kids- especially the older two who were probably 10 and 12 at the time- preteens. But, it is sort of understood in our family that if I introduce a read aloud book, listening with the family isn't optional. And so I read
The Wheel on the School
. I won't spoil it all for you, but I will say it's a slow read at the beginning. I was so glad we stuck with it, though, because it really is a beautiful little story. And I know the kids would have never picked it up on their own- probably based on the title alone. But I'm so glad they had the opportunity to hear the story.
Reading aloud can inspire kids to read the rest of a series on their own.
Often, I'll read aloud a book in a series to my older kids who can read well alone. Or I'll choose a book by a prolific author that I know has other books that they'll want to read. After I'm through reading the book, one of the kids is often interested in picking up more by that author or in that series and reading them independently.
The Moffats
by Eleanor Estes was one of those books. Eleanor Estes was a very prolific writer. After I read
The Moffats
, I told the kids about some of the other books that she wrote. I wasn't surprised when my oldest began finding some of those to read on her own.
The Moffats
is an older, lesser known book; and if I hadn't read it aloud, the kids who were old enough to read on their own wouldn't have heard to story and wanted to read more.
Reading aloud becomes something we share.
Because we read aloud together in our family, reading has become something that we share. All of my kids- even the oldest ones- know that it is just what we do. There is no need to whine about a book choice (and it isn't like I don't give them opportunities to pick the books sometime!), and there is no need to complain about having to listen. Mom is going to read. You may as well make yourself comfy to listen. But even if there is sometimes a complaint, the time we spend reading and some of the books we read become a part of who we are as a family, something that we share.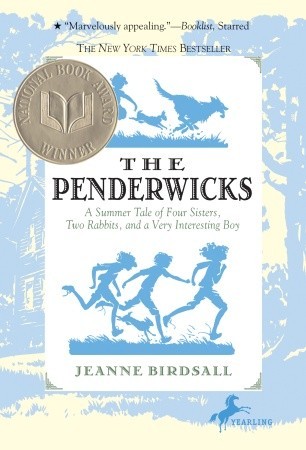 Quite a few years ago, when my youngest two were still pretty little, we stumbled upon a book that was an audio book on CD-
The Penderwicks
.
We checked it out and listened, and we all immediately fell in love. I won't be a spoiler, because you really need to go read
The Penderwicks
, but I will say that The Pendericks are a family with four, quite unique and interesting sisters. The things they get into, the relationships they forge, and the adventures they have, make for some really great reading and listening aloud.
Over the years, we've found two more Penderwicks books. Those we've read more recently as the kids are getting older. We've loved sharing these sisters and their adventures and their lessons about growing up. There are many times that we are doing or listening to or watching something, and someone brings up
The Penderwicks
- "Hey, this is just like Jane did in
The Penderwicks
. Remember that part?" And it's so fun to have that shared memory.
Reading aloud brings up discussions that we need to have but may not otherwise.
We are a talking family. We believe in keeping communication open with our kids. We like to talk about anything and everything. I believe that this communication is what helps our kids to develop their worldview, to know what they believe and why they believe it. But some topics that are important may not just come up in normal conversation. Reading a good book together provides an avenue for those discussions. When things come up in the story, it gives you a chance to discuss that.
Right now we are reading
A Wrinkle in Time
.
My older two remember me having read it to them a while ago, but the younger girls don't remember it at all, so it must have been read quite some time ago. So, I'm reading it to everyone as our lunch time read aloud.
A Wrinkle in Time
, if you haven't read it, is a sci fi/fantasy read where three kids are taken from our world and taken to another using a tesseract or wrinkle in the fabric of time to travel from one place to another. The author of
A Wrinkle In Time,
Madeleine L'Engle, claims to have been a Christian, but other Christian readers and writers question this because of some of the doctrine that seems to be reflected through her book. The kids and I are taking the time to talk through some of the things we read to discuss whether or not that reflects a Christian worldview, or if they think that Madeleine L'Engle was a Christian based on what she wrote. It provides for some very good discussion.
Reading with your older kids can be just as rewarding as reading to little ones, so don't stop just because they are older. Keep reading each Wednesday to find some tips for what kids can do with their hands when they are listening, how to fit in reading aloud time, and more. Next Wednesday is the last Wednesday in the month, so we'll be having a book talk, sharing information about The 13 Clocks and how to use it as a read aloud with your kids.
Now, I'd love for you to share your read aloud posts. Grab my button and link up below!