Disclaimer: This post contains affiliate links. If you purchase from these links, I will receive compensation.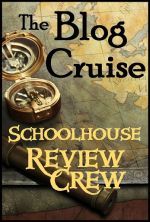 A few weeks ago I posted some suggestions for books for boys. I admitted that it was difficult to get the boy in my house to read. And I shared the very few books and series he's actually liked. Today's blog cruise is MUCH easier. There are quite a few books my girls have and do enjoy. It's usually pretty easy for them to fill up their summer reading records.

Strawberry Girl by Eleanor Estes is one that I've just finished with Ashlyne and Rachel- ages 7 and 9. It's the delightful story of a "Cracker" family in the backwoods of Florida. Birdy, the Strawberry Girl, struggles to make friends with some surly neighbors. There are themes of forgiveness, family, and God's grace. I'm not sure the girls could have read this one independently because the dialogue is written out in the accent of the Cracker people, and it is difficult to understand.
Anything by Beverly Cleary has been a favorite in our house. Ramona Quimby is a girl all little girls can relate to. Socks is the ultimate cat story. All of my girls (and Charles too) enjoyed Socks. Another one that Charles enjoyed along with the girls was Beverly Cleary's The Mouse and the Motorcycle. There are many by Beverly Cleary that are appealing to boys and girls alike.
A Little Princess and The Secret Garden– Both of these classic little girl books have been enjoyed in my house. They are too difficult for my younger girls to read alone right now, but I've read A Little Princess out loud to them, and Kathryne has read both books herself.
A few years ago we stumbled onto The Penderwicks on CD. We loved it! (This is another one that Charles loved to listen to.) Then we found a sequel- The Penderwicks on Gardam Street – and just recently we discovered The Penderwicks at Point Mouette. All of these would be too difficult for the younger girls to read alone. But Kathryne can read them just fine, and the others enjoy them out loud.
As you can see, it is much easier for me to list books the girls have enjoyed. Because I was once a girl myself, I think that it's easier for me to just refer back to books I loved to read. I'm glad I have couple of kids who love reading as much as I do!
You can read more book recommendations on the Schoolhouse Review Crew blog.