I have been privileged to use resources from Doorposts before. For quite a while I've owned- and used frequently- their book Instruction in Righteousness. So I was pleased to have a chance to look at their boys Bible study Because You Are Strong.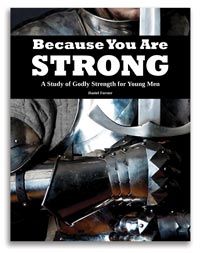 Because You are Strong is a devotional book for boys ages 10-12+. I received a paperback book, but it can also be purchased as an ebook. The softcover book sells for $14.00. (Right now it is listed on sale on their site for $12.00) The ebook is $10.00.
I picked this out for Charles to use. He is 12 1/2. The book is set up as a daily devotional with five days worth of work for a week. Each days' work involves different things such as reading Scripture, memorizing, meditating and applying, and in depth Bible study using various Bible study tools. There are two main focuses here- a character study for boys about Biblical strength and a lesson in how to use various tools for Bible study.
Charles completed each day's study on his own, and then I looked over his study and discussed it with him.
Charles and I had two pretty different opinions about this study. I will share them both. But first let me offer a disclaimer about Charles. Academically he functions above grade level. But his reading has always been very slow and ponderous. And he really struggles to write anything that is more that a sentence or so long.
Charles's opinion:
* There is too much reading. Often the days required multiple chapters of Scripture reading as well as the reading of the lesson.
* There is too much writing. On Day 2 of the very first week, he had to copy Hebrews 12:1-2 to memorize. These are pretty long verses. All of the questions required long, thinking answers. And the questions involving using the various study aides were pretty involved.
* He pretty much just viewed it as something extra to do, and because of this he didn't particularly want to do it.
My opinion:
* I love application questions. I think this is especially helpful in Bible study.
* I really liked the concept of teaching the boys to use Bible study tools. This is something often overlooked in Bible curricula.
* I thought the topic was a great one for boys- strength. What is strength really? There were examples of Bible people who exhibited strength and various Bible verses that addressed Biblical strength.
* There are only ten chapters which equates to ten weeks of the study. I didn't think was too long of a study.
In hindsight, it was probably not a good fit for him because of the amount of reading and writing. I always seek to achieve a good balance between exposing him to studies where he needs to read longer, to write more but, on the other hand, not frustrating him.
I think perhaps it might work if he did it as part of a group with other boys. I also think if my husband could possibly do it with him, he would be more inclined to stick with it. Charles is the only boy, and sometimes I think doing school with all of us girls is a little daunting because we think differently. If he were doing this with his dad and could discuss it with him, I think it might be easier for him and less of a chore.
I also think that an older boy might find it less daunting. Although it says ages 10-12+, I don't many 10 year olds who could handle this depth of study.
In short, I liked the study. I'm not sure it was a good fit for my son, but I do think it is a good study. I think that used correctly, with the right age of boy, it would succeed.

You can read what other reviewers thought about this study and about the Doorpost study for girls here.