Charles- my 12 year old- has always been interested in the Spanish language. He has learned a little here and there. (Never underestimate Dora and Diego!) So when I saw this review, I was excited for him to have this opportunity.
Homeschool Spanish Academy is an online Spanish tutoring program where students from elementary ages to adults can "meet" one on one with a Spanish speaking tutor over Skype each week.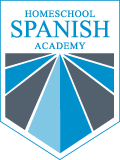 I chose the Middle School Program for Charles. This program is for children 12-15 years old. We received a Half Semester which is seven weeks of tutoring with a 50 minute class each week. The price for this half semester class for one student is $104.99. Two middle school students can take the class together for $154.99. There is further information about pricing for a full semester 1x per week program or a full or half semester of a 2x per week program on the Middle School Program page.

We began the program by making sure that our computer fit the technology requirements. These requirements are listed on the Homeschool Spanish Academy site. There you can sign up for a free class and receive a tech support call where a friendly support person will help you check your computer's requirements. We received our call and checked our requirements, and then we were off for our first class!
After Charles was registered, I logged in and went to my dashboard to schedule his class. I was given a choice of teachers, days, and times. I only scheduled one class at a time so that I could have some flexibility and make sure I was scheduling at a time we could keep. If I had begun when we were already in our regular school schedule, I would have scheduled all the classes at one time using the repeating option. Because we were still in our summer schedule, I needed the flexibility. This proved to be difficult, though, after our fourth class. When I went online to schedule with the tutor we had been using she was booked for two weeks, and the schedules of all the teachers I checked were full for the next two weeks! There is a "contact us" button on the site's home page, so I contacted the company to let them know of my problem. (As of now I haven't been able to resolve my problem. But they have called me- which I missed – and left a message to say they would try to help me schedule classes.)
Charles was a little nervous as he began his first class because it was something new, and he knew he was going to be talking with a live person. But his teacher put him at ease as she started. She talked with him and got to know him a little and then started right in with teaching during their first class. She had lesson pages to show, and for some reason, she couldn't get them to show over Skype; so she sent them to him as a PDF file that he could look at while she was teaching. I was impressed that she handled the technical difficulty quickly and didn't waste teaching time.
The information on the site indicates that there can be homework assigned. For his first class, all he needed to do was to review the PDF files. After his second lesson (where the viewing of the material worked fine), he was given an assignment. I wasn't in the room at the time, and when I asked him about it, he wasn't sure he had understood what to do. We received an email immediately following the lesson with the assignment; and I didn't really understand either. I used the "contact us" button to ask about the assignment. I was pleased to get an answer directly from his teacher right away. The assignments are completed in a Word document that is then attached to an email and sent back to the teacher.
He has now had four of his lessons, and I hope we can work out the scheduling of the other three. Here's what we thought.
Charles- Learning the Spanish was fun. His tutor was interesting and moved things along, so the 50 minute class passed quickly and was fun. He learned quite a bit from her and frequently uses some of his Spanish words with us. He was a little concerned sometimes because his teacher's English was heavily accented, and he couldn't understand. I told him that it was find to ask her to repeat something if he didn't understand. And as he got to know her a little better, he felt more comfortable.
Mom- I was very impressed by the amount of Spanish he learned in the time he's been in class. Language experts agree that immersion in a language is the best way to learn, and being one on one with a Spanish speaking tutor who was constantly asking questions in Spanish or replying to him in Spanish was a great way to learn. Having a live teacher instead of just learning from a book or website was also nice because she could answer his questions and adjust her teaching to fit his pace. I also appreciated the ease of use of the site. It was easy to figure out how to schedule classes and how to turn in homework. And when we did have a question, it was answered in a timely manner. There are videos on your dashboard that show how to schedule classes, turn in homework, and other helpful things.
I thought this was a great program. I think it would make a good foreign language course for a high school credit. And I think an adult who desires to learn the language quickly could really benefit. Even from listening in to the classes while I was walking through and doing other things, I've picked up quite a few words and phrases myself.

You can read what other Review Crew members thought about Homeschool Spanish Academy by clicking below. We had reviewers using every level of the program, so there is more information about each level also.