I had never heard of Family Hope Center before I had the opportunity to do this review. Family Hope Center is an organization that provides seminars all over the world about working with your children with special needs. They also can meet with parents to evaluate children and develop a plan to help parents. The slogan on their website is: "Empowering parents to heal their children." For our review we received Understanding Child Brain Development. This is a DVD from Matt and Carol Newell, the directors of Family Hope Center. This DVD can be purchased for $19.00 either directly by calling 610-397-1737 or it can be purchased from Institute for Excellence in Writing.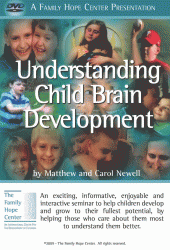 The video is an introduction to child brain development. I was very interested for several reasons. I have a degree in special education. When I began teaching years ago- before I had my own children- my heart was for children with special needs. I wanted to see them succeed. Working in special education can be very rewarding, but it can also be very frustrating because it is often difficult to determine what children need. I was also interested because I have friends with special needs children. I want to be an encouragement to them. And I appreciate any information that I can pick up that may help them as they work with their children.

The video was very interesting. I suppose that watching a video about brain development wouldn't be your usual Friday night movie night, but if you enjoy classroom style learning and seminars as I do, this would be a good fit. I found it very informational.

The material is presented in an easy to understand way. Matt Newell- accompanied by his wife Carol occasionally- presents information about how children's brains develop beginning in infancy. He presents the information in a straight-forward way and links the information with the program that is offered by The Family Hope Center. He is essentially describing why their program works in light of scientific research about brain development.

I think that many parents with special needs kids may see the website and watch the testimonials and expect some great revelation from this video about brain development- some great secrets divulged. This wasn't the case for me. Most of the information was information that I knew, that I had learned at some point along the way in my child development classes. But what the instruction did do for me was connect the dots. I had several "ah ha" moments. And then I wondered why these methods aren't more commonly used in teaching children with special needs.

I think there is some great information here. I think there are some really good connections made. And I think parents of children with special needs can really gain some insight and some information about helping their children.

I didn't like the slogan that I quoted before when I first visited the website- "Empowering parents to heal their children." I don't think special needs children need to be "healed." And I think that promise may be misleading to parents. I think that we are all as God made us for a reason. Some special needs will not be "healed." But I do think that there are things that parents can do to maximize the potential of each child. There are things related to brain development that parents can do to help all children thrive.





You can read what other Review Crew members thought about this video from Family Hope Center by clicking below.