Have you ever struggled to understand the way the electoral college worked? Have you ever wished you could hit the campaign trail and become our country's Commander in Chief? We had an opportunity to do both when we received The Presidential Game.

We received The Presidential Game board game which can be purchased for $35 on the website. The game, which is recommended for ages 11 and up can be played by two people campaigning as Republican and Democrat or by two teams of multiple players.
Fact One: I have an extremely competitive son.
Fact Two: He loves board games.
Fact Three: I also love board games. (Although I'm not as competitive.)
Fact Four: I knew I could beat him.
Both of us were pretty excited when The Presidential Game arrived. We set it up and began to read the instructions and started to play.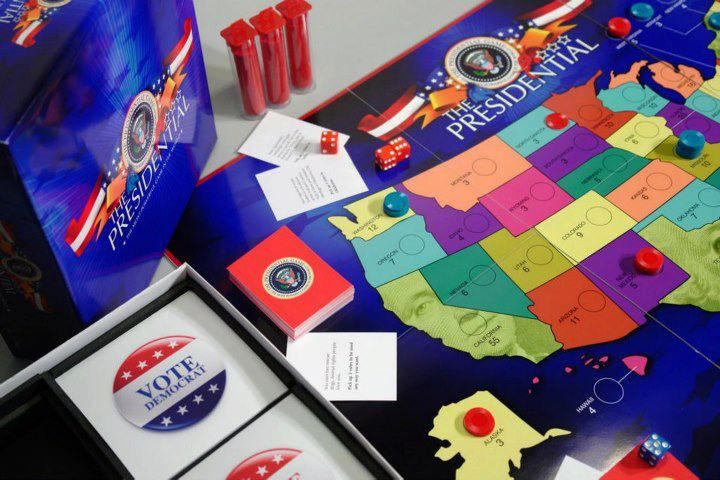 The instructions were a little confusing. It seemed as if I understood the goal, but the technicality of actual game play was not clear. We jumped in anyway and tried to figure it out as we went along.
Pretty quickly I was all for adapting and playing the way I could understand. We made it through the first game this way. I put up a good fight as the Republican candidate, but Charles, the Democrat won.
Charles enjoyed the game quite a bit- probably because he won. So it wasn't long before we were playing again. This time, after having a little experience, we figured out the game a little better, and we actually able to play mostly according to the directions. I still think we adapted a little. Of course Charles won again.
I have yet to win. But I do admit the game is pretty fun.
So, here are my conclusions:
1. The game is a good bit like Risk or Ticket to Ride or other games where the goal is to "take over" a certain area. In this game, instead of taking over countries or states or road ways, you're taking over the electoral college votes of each state.
2. The game can be made long or short depending on the amount of time you have to play. You determine beforehand how many turns each player gets. We usually chose fifteen turns, and it has taken us about a half hour to play. The instructions recommend thirty turns.
3. In the game you can chose to campaign or to fund raise on each turn. Depending on the option you chose, your game play will be different, and you can win a certain number of votes.
4. I think 11 and up is a pretty good age recommendation. As I said, even I had some trouble getting started with the instructions. We did think of some ways we could let the younger girls be on our teams if they asked. They could have jobs like rolling the dice for us or putting down voting chips.
5. There is an interactive webmap on The Presidential Game site. We didn't use it, but I think it may have made things easier when we were having so much trouble at the beginning. I think we will use it next time. It appears to function just like the maps on the news the night of the election- highlighting states that have been claimed by one side or the other.
All in all we've really enjoyed the game. I look forward to playing it even more. I'm learning more about how the electoral college works. And I need to keep on playing until I win.

You can read what other reviewers thought about The Presidential Game by clicking below.