I've been aware of Time4Learning for most of my homeschool days. Time4Learning is an online educational site. It can be used as a complete curriculum or as a supplement to learning. I've known homeschoolers and traditional schoolers who have used this program and enjoyed it.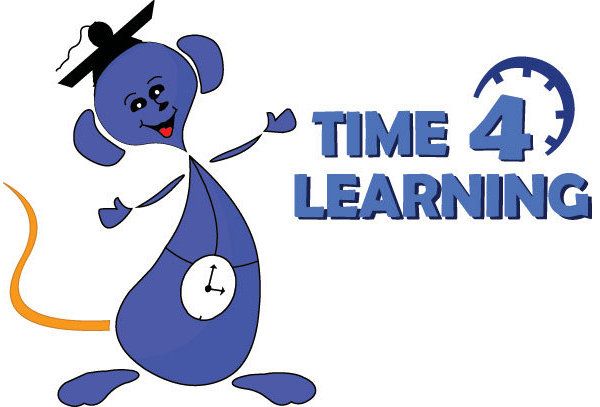 Some time ago- after having a friend who successfully used Time4Learning– I signed up for a free trial and used it with Rachel, my youngest. I liked the early years program, and I was very interested to see that Time4Learning now has middle school and high school levels.
For this review, I received a six month subscription for eighth grade. That is the grade of my 12 year old son, Charles. A Time4Learning subscription is $19.95 per month for grades K-8th (with an additional cost of $14.95 for additional students). The high school program is $30 per month and includes four classes. The website has a place to view lesson demos for the grade level of your choice, so you can see exactly what the program looks like.
When I signed up to use this with Charles, I expected that he would really like the format because he enjoys computer games and computer-based learning. I was using the program as a supplement to- not a replacement of- our regular homeschool curricula.
The program can be used in different ways. As a parent, you can simply tell your child what subjects you want them to work on for the day and how long, or you can set up actual lesson plans on the site that will guide your child in the day's work. There is a place on the site that guides you, the parent, in how to use the program. You can view videos that show how to use the features of the site. And you can see an overview of all of the lessons for each subject. I liked this because I could know what topics were covered in what order. This can be especially helpful when you're using this a supplement because you know which lessons fit with the subject you are studying.
Because I was using it as a supplement, I just told Charles what to work on each day that he used it instead of making lesson plans. When Charles logged in, he came to an opening screen that allowed him to choose what subject to work on. Each subject was further divided into topics and then lessons.
Charles began by trying out lessons in the math section. Math is one of his favorite subjects. There are two choices for eighth grade math- a regular math and an honors algebra. He went with regular math.
Right away we found a key reason why this wasn't a good fit for Charles. He is not a visual learner. The material in these Time4Learning lessons is presented almost like a talking/animated textbook. It was hard for him to focus and understand. When reading the information in a textbook or listening to me read, he can reread or ask for clarification. Watching the material being presented in the online program frustrated him because he couldn't do this.
He also worked on some of the social studies and science lessons. These lessons (according to the lesson plan overview) are not really eighth grade level lessons. They have a star by them, and the notes say this means that to get these lessons, go to the grade below or the grade above. Since we were using eighth grade- the top level in the middle school set- we didn't have access to the ninth grade lessons. So his lessons were at a sixth grade level for science and a seventh grade level for social studies.
Time4Learning wasn't a good fit for Charles. I've learned through my years of homeschooling that not everything fits every kid. In summary, here are some of the things I thought were good and bad about Time4Learning.
The good:
* It is eye catching. If you have a kid who loves computers, television, and video games- as many kids do- it is appealing.
* The lessons have a variety of elements in order to try to ensure learning. There can be video presentations, reading information on the screen, practice problems, quizzes, and writing activities.
* A record of progress is available for parents to view or print. From the parent administration scree, you can view the lessons your child has completed and see how well they did. You can also print these records if you need a hard copy for progress.
* The site has all can of "helps" to ensure that you know how to use it to get the most benefit. There are all kinds of help pages and videos to help parents and kids know what they are doing.
* There are no books. I knew this because I knew what Time4Learning was. But when I thought of using it as a complete curriculum, this fact really gave me pause. There are no real books. I haven't seen the high school level, so I don't know if it is different. But I can't imagine having a middle schooler complete a course and never have read an actual book. Even in the language arts category, there are not real books. There are excerpts from five books that are read digitally (or can be read aloud to the student from the computer).
* Evolution was presented as a fact in both the science and social studies curriculum. This is not our world view and bothered me. It also bothered Charles quite a bit as he is pretty vehement about not watching or reading something that presents evolution as fact.
* The way the information was presented was not a good fit for Charles. Other kids might not have a problem with it and might enjoy the presentation. But, with his learning style, this was really not good.

Even though Time4Learning is not a good fit for us, other Schoolhouse Review Crew members may have felt differently. Click below to read what others thought. (We had reviewers at every grade level PreK-8th grade.)