We have always been very deliberate as a family to be aware of missions and pray for missionaries. We've been reading a book of missionary stories during our devotion time in the morning. I've mentioned Jim Elliot and his life to the kids several times as we've read through the other stories. So I was glad to be able to review his biography from YWAM Publishing.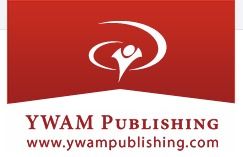 Recently we received Jim Elliot: One Great Purpose and Jim Elliot: One Great Purpose Unit Study and Curriculum Guide. This book's age range is given as 10 and up. The study guide does not have an age range, but the site says it can be used with a range of grade levels and abilities. We received the book as a mobi file for Kindle and the study guide as two PDF files. On the website here the book can be purchased as a paperback, Nook or Kindle book for $6.99. The study guide can be purchased here as a paperback for $7.49.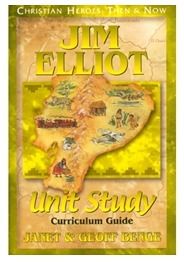 I have been using the book as a family read aloud during our morning devotional time. Although the recommended age range says 10+, my younger girls- 9 and 8- have had no trouble listening to the biography as a read aloud.
We have really enjoyed the book. It includes information about Ecuador, the country to which Jim Elliot traveled to be a missionary, reasons why Jim Elliot wanted to become a missionary, and a description of Jim's experiences as a missionary. The book is easy to read, and I know any of my children could easily read it for themselves- although the length of it would probably be daunting for the younger girls.
I have not used the study guide as a unit study. I have used some of the review questions and some of the activities. The study guide would make a great unit study. It has a variety of activities designed to fit all different learning styles, ages, and ability levels. There are review questions for each chapter, and there are vocabulary words from the story. There are also maps and a fact sheet about Ecuador to help with learning geographical information about Ecuador and about Jim's journeys as a missionary.
I used some of the review questions to review each section that we read. We also did a few of the activities including learning about Ecuador by filling out the fact sheet and looking at the map of Ecuador.
One of the really fun activities that the kids enjoyed was creating a banner with a Spanish saying. The study guide had a variety of Spanish phrases and their English translations. The kids each had one to write in Spanish on a banner. I hung these banners around in our schoolroom/dining room so that we might remember to pray for the people of Ecuador and current missionaries who are there.
If I were going to use this as a full unit study for one child or as a unit study for the kids as a group, I would definitely set up the Display Corner that the study guide describes. They recommend collecting a variety of objects from Ecuador or representing Ecuador. I think this would be great to do if you were focusing on the book as a unit study.
The book is great to read as a stand alone. But I also enjoyed having the activities from the unit study to supplement our learning. And I can definitely see how the study guide could make this into a complete unit study.

We are continuing to enjoy Jim Elliot: One Great Purpose from YWAM Publishing. You can find out what other Review Crew members thought about this and another book and study guide from YWAM by clicking below.