I haven't focused greatly on teaching spelling words. It has been my experience- both as a teacher and as a homeschooling mom- that some people are just good spellers and some aren't. I can teach a group of children a set of spelling words using the same methods and making sure they have the same amount of practice and some will ace the test and some will fail it. Over the years, I've had my kids practice words in the context of teaching phonics rules or in context of something they are reading, but we've never done much of memorizing spelling lists. Occasionally I like to have some of the kids practice a short list of often used words. I was interested in VocabularySpellingCity when we first had the opportunity to look at it. This is an online spelling and vocabulary site that offers free practice and a premium edition for pay.
We received a one year Premium Membership from VocabularySpellingCity. This membership is good for up to five students. On the site, it costs $29.99 for this membership. Any students K-12 can use the program because you enter your own custom spelling lists. I used it mainly for my younger girls-grades 3 and 4. But I also tried it out with the older two- grades 8 and 9- for two weeks because I wanted to see how age appropriate the activities were.
The Premium Membership allows you to log in and set up assignments for specific students. You can choose from activities that teach the spelling of the words or activities that test knowledge of what the words mean. There are word searches, hang man style games, missing letter games, sentence and paragraph writing games and more. You can also set up the option to pretest and test the students on the words. Using the site for free, you can still set up a list and play games. But the ability to make assignments and track progress is a nice feature of the Premium Membership. There is a mobile app that allows you to play free or log in with your Premium Membership.
When I first logged on to the site, I had options to add students, to create lists, and to make assignments. Some features were difficult to figure out at first, but there are good instructions and videos to guide you through the process. I admit I was not sure that this was going to be very useful to me. It seems to be set up more for a classroom teacher because there is the ability to set up a list that students can then log on to from home to practice words and be tested. As I began using the program, though, I found that there were things that made this useful for us as homeschoolers.
I really liked the ability to make separate lists for each child. Even my younger two usually need different words. One is a much higher level speller than the other. I could make all different lists for each child.
I also like the way that I could create assignments, set them to be done in order, require a due date, add instructions if needed, and then just turn it over to the kids to practice their words each day.
I liked the online spelling tests. I've confessed that we don't study spelling formally very often. I like the idea that they can be tested on the words they've practiced but that I don't have to remember to do it. (Does that sound super lazy? It does to me!) After the test, they are given a grade as well as a cute, printable certificate.
The kids liked using it. The older two were sort of so so about it. They really didn't like the idea that I was adding spelling to their weekly tasks during the time I wanted to review it. But the younger two really liked it. They've been practicing spelling words on and off anyway, so it wasn't extra work, and they like the games and practice.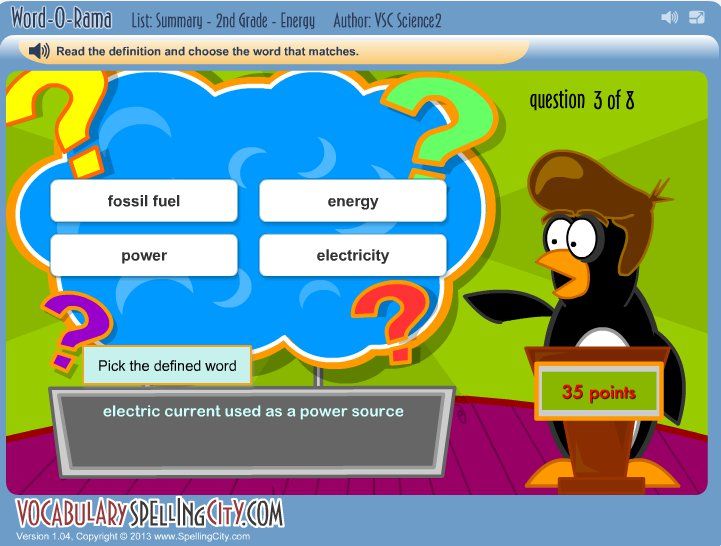 I noticed an improvement in spelling ability in my youngest especially. She has struggled the most with phonetic sounds and spelling. Her first week of practice and testing with VocabularySpellingCity, she scored 67% on the test. The last few weeks, she's made 100%. The combination of practice and the different games and activities has been great for her.
The only thing I haven't liked about the program is that, although any age could use the program, because of the custom lists some of the activities are definitely more appropriate for older or younger kids. On the first couple of weeks when I had my older kids using the program, I assigned the same activities to all kids but gave them different word lists. The word search activity frustrates my younger two. The words are hidden just as hard for the younger lists and for the older ones. Even though the words were easier, the activity was still difficult. The Speedy Speller was another one that almost brought tears to my youngest. I had assigned it as the 3rd or 4th activity for the list, so she hadn't been practicing the words very long. The activity has a voice calling out the word and times how long it takes to type it in. The combination of remembering the word, typing, and the
timing was too much for her. With some trial and error, I found which activities were best for each child. There is also a page on the site where you can try out each game to know what it will be.
I like this program. I plan to keep using it all year with my younger two. They enjoy it, and I think they are doing well learning spelling and vocabulary.

You can see what other Review Crew members thought about VocabularySpellingCity by clicking below.