I'm not sure there are enough good things I could say about all of the homeschool science resources we've used from Apologia Educational Ministries. I've used them for quite a few years with all of my children. We've been very happy with everything we've used, and I especially love the explicitly Christian worldview.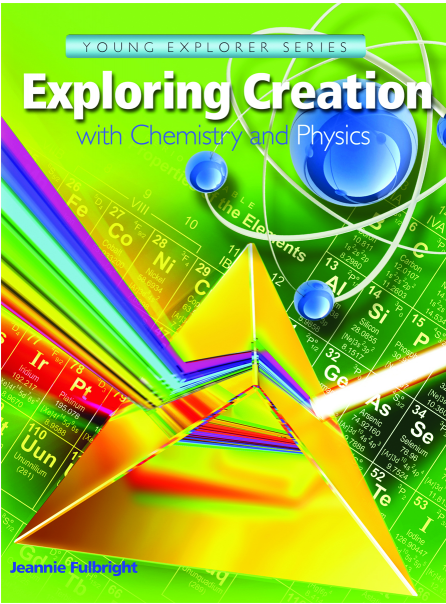 I was very excited to have the opportunity to review Exploring Creation With Chemistry and Physics. This was a course I hadn't looked at before. This is an elementary (grades K-6) curriculum that introduces physics and chemistry concepts to elementary aged kids. We also had the opportunity to choose a notebooking journal- either the junior notebooking journal or the regular notebooking journal. I've used the junior journals for my girls (grades 3 and 4) before, so I decided to try the upper level notebook to see if they were ready for this one. The upper level notebook is meant for upper elementary kids who are more fluent in writing. I received two of the Exploring Creation With Chemistry and Physics Notebooking Journals.
The hardback Exploring Creation With Chemistry and Physics can be purchased for $39.
The spiral bound Exploring Creation With Chemistry and Physics Notebooking Journal can be purchased for $24.
My 3rd and 4th graders have been working on Flying Creatures of the Fifth Day from Apologia. We took a break to complete two units of chemistry and physics during the review. There are daily lesson plans in the notebooking journals. The recommendation is to do two days a week of science, and each day's work is specifically listed. I've loved this from the time I found these journals. It's sometimes difficult to think through how to fit in all of the reading and other activities. So I love that there's a plan for me to follow.
Each chapter is usually covered in four days- two weeks. The first two days of the chapter involves reading and recording fascinating facts. I chose to read aloud because I enjoy it, the girls enjoy it, and they can both listen at once instead of having to take turns reading. With the junior notebook, there were color sheets to go along with the first two days of reading. The regular notebook just had the spaces to record fascinating facts or draw pictures of what we were reading.
The second two days of reading- the second week- usually involve various activities that have to do with the chapter. There is usually a mini book activity. There is often a crossword. There is a place to record experiments completed. And there is a review page with questions about the chapter.
In the first two chapters, we read about matter, the properties of matter, and the states of matter. There are many small "Try It" sections throughout the chapter. These are small experiments that demonstrate the concept about which we have just been reading. There are also occasional larger experiments. I really like that most of the experiments use materials we have around the house. It's usually pretty easy to gather everything and do the "Try It"s or larger experiments.
We had an experiment where we made lava lamps with oil, water, and alka seltzer tablets. It was a demonstration of the different densities of water and oil. It made a very cool lava lamp effect. It also made a huge mess in our kitchen when my younger daughter decided to show it to her friend and didn't get the bottle lid on in time. But all messes clean up, and this was a very fun experiment!
Another fun experiment we did was testings various substances to compare their densities. We colored them with food color and poured them into a glass jar to see how they settled out. Then we dropped various objects in them to see where they settled.
We all- me included- loved the story of how Archimedes came up with the how to find the volume of an object. He sank down into his bathtub and watched how the water was displaced. He then said the now famous line: "Eureka! I found it!" We didn't use the tub, but we did drop small objects into water to determine their volume by water displacement.
There are so many things I love about all of Apologia's curricula. Here are a few of them.
1. Apologia has a distinctly Christian worldview. I don't think any curricula is truly neutral when teaching science. There has to be a starting point for all things. And with Apologia that starting point is always an emphasis on God as Creator.
2. Apologia doesn't tell kids what to think about how God made the world around them; instead the books teach the kids how to interpret the data around them. Kids learn about chemistry or physics or other topics of science. And then they learn how data lines up with evidence of a Creator God. The kids come away with a definite sense of being able to defend their beliefs.
3. Apologia's textbooks are living books. I've been very much a follower of Charlotte Mason in my teaching tendencies for most of our homeschooling. Often I'm not a fan of textbooks because they are dry and boring. Apologia's science books are interesting and full of life. I am inspired to love science- a subject I didn't particularly like in school.
4. The experiments and demonstrations in the books are usually simple, requiring few materials. I like to do hands on things to demonstrate concepts to the kids. But I really don't like seeing a whole page listing of materials needed for one project. Usually that means we won't have what we need or it will take forever to figure out. There weren't many projects that I had to pass up in this book. Most we were able to do simply and easily.
5. The notebooks that correspond to the textbooks really add to the learning experience. We've been able to use notebooks with several different courses now, and I love them. The activities in them help to tie together the concepts covered in the chapter. And my younger girls don't realize it, but they are becoming excellent note takers! Those fascinating facts sections really teach listening for information, and both of them have become quite proficient in picking out the important information as I read.
We loved Exploring Creation With Chemistry and Physics. My biggest problem has been how to get the girls back to the Flying Creatures… book. I think we've decided to alternate units- completing a bird unit and then a chemistry/physics unit taking two years to completely cover both books. I have to admit that I also love the demonstrations and hands on things in the chemistry/physics, and I'm pretty convinced to keep on with it myself!

You can read what other reviewers thought about Exploring Creation With Chemistry and Physics by clicking below. Some of us were able to use the Junior notebooks also, so you can find out how others liked those.