I've been a fan of C.S. Lewis's writing for a very long time. As a child I read his Narnia fiction. As a Christian school teacher I read the Narnia books aloud to my class. And I also began to discover some of Lewis's nonfiction writing. So when I had my own children, there was no question that I would share the Narnia books with them. But until now, I hadn't brought any of Lewis's nonfiction out. I was very excited to receive the Mere Christianity Journal from Home School Adventure Co.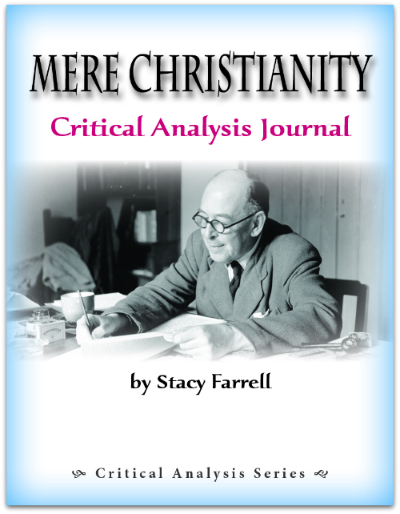 We received the Mere Christianity Journal in PDF form. This sells for $18.95 on the Home School Adventure Co. site. There is also a print version of this journal for $28.95. The journal is for ages 12 and up, but we used it together with our whole family as our devotions time in the mornings. The journal page on the site suggests use as an independent study for teens or adults or a group study for families or homeschool co-ops. The PDF version of the journal can be typed into and saved. I printed it off for our use and we used it for oral discussion. In order to use the PDF version, you need a computer and probably a printer. You will also need to purchase the Mere Christianity book. If you order the print version, you'll only need to purchase the Mere Christianity book.
When we received the journal I purchased the book Mere Christianity as an ebook for my Kindle. In hindsight, I wish I had purchased a hard copy of the book. I have sent the PDF journal to my Kindle also, but I can't keep both books open at the same time to go back and forth between them.
We do a devotions time every morning with all of the kids and I- 3rd grade, 4th grade, 8th grade, and 9th grade. During this time I began using Mere Christianity and the journal. I read aloud from the book each day. We read and then stop every so often to discuss the journal questions that cover the reading we had done. Sometimes I ask some of the journal questions before reading as a pre-reading activity to help the kids focus in on what to listen for. And sometimes I just read them after I read the book to see if we can remember and discuss. The amount that we read every day varies depending on how deep our discussion goes and how much we can understand or need to reread.
The journal has approximately 10-12 questions for each chapter. Some of the questions focus more on comprehension, but most of them require thinking and analyzing. And some of them require longer, essay type answers. There is plenty of room for writing- either on the writable PDF or the printed off page.
I use different methods of questioning. Sometimes I only read a very short passage and then the one question that fits that passage. Sometimes I read a whole section or chapter before I stop, and we answer all of the questions for that passage. Although I expected my teens to be the ones answering most of the questions, I try to let the questions be a discussion between all of us, including my younger girls.
I really like the questions that the journal uses. Mere Christianity– in fact most of C.S. Lewis's nonfiction- can be very deep reading. It is sometimes hard to grasp exactly what he is saying. And sometimes his examples are great, but at other times, they are somewhat circular. The journal questions are very well-worded and thought out to draw the kids to an understanding of what we are reading.
For example, Lewis begins Mere Christianity by discussing whether or not there is a common law of nature- a base standard of right and wrong. And he is looking at how we can know for sure that there is this law of nature, superseding all of our opinions or personal actions. This can be a difficult concept to grasp, but the questions in the journal make one think of what's being said and help it to become more clear. One of the questions from the first chapter is: How does Lewis say our reaction to the atrocities committed by the Nazis supports his argument for a common sense among men of what is right and what is wrong? The question led to a discussion of whether or not the Nazis knew that what they did was wrong- an absolute wrong- and that the people around them obviously believed that they were wrong- an absolute wrong.
One of the neatest things that I've seen as we've been using this journal to guide in understanding Mere Christianity is that the questions and the discussion they spark have made the book understandable even to my younger girls. When we started reading, I purposefully only asked the questions to my older kids. I didn't want the younger girls to feel frustrated, and I thought most of it would be over their heads, but I'd be grateful for anything they could grasp. What I've noticed, however, as we are going along is that my younger girls volunteer to answer the questions also now. They are able to understand them, and they are able to use those questions to grasp the meaning of the book. I love that, as a result of using this journal as a guide, we are able to have these kinds of discussions that include all of us.
I can see many ways that this journal could be used. We are enjoying using it for our family devotions because it leads to these good discussions. I think it would be a great tool to give to a high schooler for independent Bible study. I could see it being used as a youth or adult small group at church or at a homeschool co-op group. I intend to continue on through the book now, and then possibly pull the journal and book out again in a few years when my younger girls are older and let them look at it from the perspective of older students.
You can connect with Home School Adventure Co. here:
Facebook: https://www.facebook.com/HomeSchoolAdventureCo
Twitter: http://twitter.com/HomeSchoolAdven
Pinterest: http://pinterest.com/HomeSchoolAdven
Google+: https://plus.google.com/u/0/b/115241518288669984312/+Homeschooladventure/
Instagram: http://instagram.com/HomeSchoolAdven
And right now, there is a great special from Home School Adventure Co. for my readers. Use the code below for 10% off!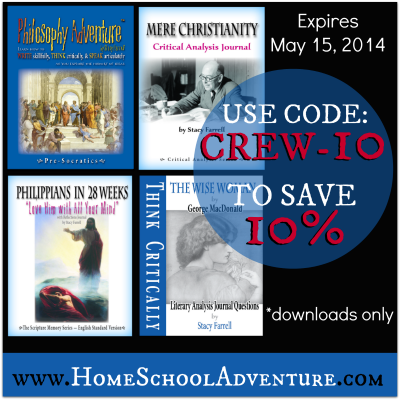 You can read what other crew members thought about the Mere Christianity Journal and other Bible study products from Home School Adventure Co. here.