I love diagramming sentences. Yes, I'm sure that makes me a grammar nerd, and I'm sure some of you will read that and be convinced that I'm crazy. But it's true. I love diagramming sentences- the longer the better.
I'm not sure that any of my children share my love. But, because I think diagramming sentences is important in helping kids become better writers, we've always used a grammar curriculum that emphasizes diagramming. In our recent Homeschool Crew review we've had the opportunity to use Sentence Diagramming: Beginning from The Critical Thinking Co.™as a supplement for diagramming practice.
The Critical Thinking Co.™
The Critical Thinking Co.™ is a publisher that has been around since 1958. They produce a variety of materials that are designed to help kids become…critical thinkers. Their mission statement says that they have the goal of helping kids to get better grades and to improve problem solving. The company offers a variety of books for various subject areas as well as software resources.

Some of their newest resources are software for early learning. Some of our Crew members had the opportunity to review apps from the Reading, Writing, and Arithmetic Before Kindergarten!™program. This software is part of the company's focus on The Importance of Preschool Academics. I don't have any little people anymore, and I don't think that preschoolers need to focus heavily on academics, but I do have to admit that some of these software apps looked so fun. I'm excited to read about the experiences that Crew members had with them.

Why Diagramming?
I know that the idea of teaching kids to diagram sentences isn't considered important by all teachers- homeschooling or otherwise. I don't know what is taught in traditional schools now. I do know that I learned how to diagram in upper elementary school and beyond.
Despite the fact that diagramming sentences isn't always a valued skill, I think that it's super important. Why? It all comes down to writing. When kids take sentences apart in an analytical way by diagramming them, they are learning all about sentence construction. By learning how well-written sentences are constructed- how the parts of speech work together, how words are used- kids can become better writers because they can take what they've learned and construct their own well-written sentences.
I've seen sentence diagramming taught in a variety of ways. Some curricula teach diagramming after introducing kids to all of the parts of speech. I've also seen diagramming taught along with each part of speech. This tends to be a more incremental way, where kids can learn very basic diagramming and slowly add in parts of speech, until they are diagramming long sentences with complex structures. This is the method that I prefer. Sentence Diagramming: Beginning uses this incremental approach to diagramming.
Sentence Diagramming: Beginning
Sentence Diagramming: Beginning is intended for grades 3 and up. It's a paperback book that is a consumable workbook. The Critical Thinking Co.™ has a generous reproduction policy that allows for photocopying for family use. I copied the pages and used the book with Ashlyne (7th grade) and Rachel (6th grade). The girls are already familiar with diagramming, but I had them start at the beginning, and we used the book for review.
The book contains twelve lessons, along with a cumulative review and an answers section at the end of the book. There aren't instructions for use or a schedule given. I liked this because you can choose to use the book in whatever way benefits your family. Because we were using the book as review. We could get through many pages at a time. But you could also use this as an introduction to diagramming because it begins very simply, and the diagrams get more complex as they go along.
Each lesson has four parts.
Part 1-Each lesson begins with an explanation. The parts of speech being diagrammed are explained, and there are examples given. Then there is an exercise where kids see sentences that are diagrammed incorrectly, and they are to correct them.
Part 2-On the next page of the lesson is a little more explanation- often with added information- and more examples. On this page, kids are given the diagramming lines, and they fill in the sentence diagram.
Part 3-On the next page of the lesson, kids are given diagramming lines, and the write a sentence that fits the diagram. The sentence isn't supposed to have any other words, but only to contain the parts of speech that fit on the diagram lines.
Part 4-The last page of the lesson has a few more examples with additional information. Then kids are given sentences to diagram on their own, without any guidelines.
If you were using this as an introduction to diagramming, you could move slowly, doing one lesson or even part of a lesson each day. We often worked through several lessons a day because we were using this as review.
I loved the flexibility of this workbook. It was a great review for us, but I've also recommended it to other homeschoolers as a good introduction to diagramming.
The lessons are short, and there aren't pages and pages of exercises. There are enough for the kids to get good practice, but there aren't pages and pages of busy work- as some workbooks contain.
One of my favorite parts of each lesson- and the kids loved this as well- was the activity that had kids writing sentences to fit the diagramming. If you think about it, this activity teaches kids the true of value of diagramming- to help them build good sentences. It also requires critical thinking because kids have to figure out how to choose words that fit the diagram and that make sense as a sentence. Some of the sentences got a little goofy, but the kids had fun creating sentences that fit.
Sentence Diagramming: Beginning is a resource I can definitely recommend. If your grammar curriculum doesn't introduce diagramming, this is a way to teach it incrementally. Even if you don't do well with diagramming yourself, the book will help you help the kids learn the valuable skill of diagramming.
Other Crew members reviewed this resource and others from The Critical Thinking Co.™- including the preschool software. You can see what they thought by clicking below.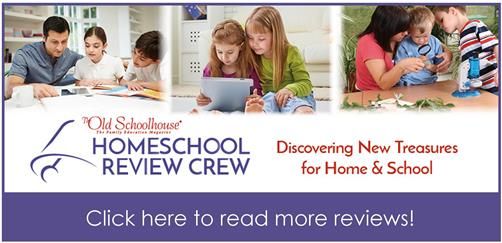 Find The Critical Thinking Co.™on social media.

Facebook: https://www.facebook.com/pages/The-Critical-Thinking-Co/46128092293
Google+: https://plus.google.com/114500823774999703181
Pinterest: https://www.pinterest.com/source/criticalthinking.com/